Experts in drinking water quality
Clean drinking water is essential to life – but it takes work
Clean drinking water is an essential requirement for hygiene and health. It's one of our most valuable resources, and we need to protect it. That's what we do. With our intelligent and digital technologies, we ensure drinking water hygiene, energy efficiency, comfort and safety in buildings – transforming spaces into living rooms.
Our innovative and sustainable drinking water management system makes us experts in healthy drinking water in buildings. We offer practical solutions and take proactive steps to enhance the energy efficiency of buildings – making an active contribution to climate protection.
How valuable is clean drinking water?
Drinking water goes through a number of processes before we can drink it straight from our taps without a second thought. At each stage, the highest standards of hygiene must be met. When water is treated and transported by the supplier, for example, the pipes must be clean, the quality of the water must be consistently monitored, and other essential safety systems in the building must function seamlessly to ensure that no hazardous substances enter the water supply. It's also crucial that system solutions are planned and installed holistically so that issues can be identified before risks arise. At Viega, we provide modern installation technology and innovative drinking water solutions to ensure that this can be achieved, focusing on the four central factors of drinking water quality (temperature, water exchange, flow-through and nutrients).
Drinking water quality is a sensitive topic. Even clean water is never completely sterile. It still contains bacteria, but these are present in such low concentrations that they do not affect our health, as long as the correct conditions are maintained. However, if water is allowed to stagnate in pipes or lukewarm temperatures become the norm, hazardous bacteria like legionella begin to multiply.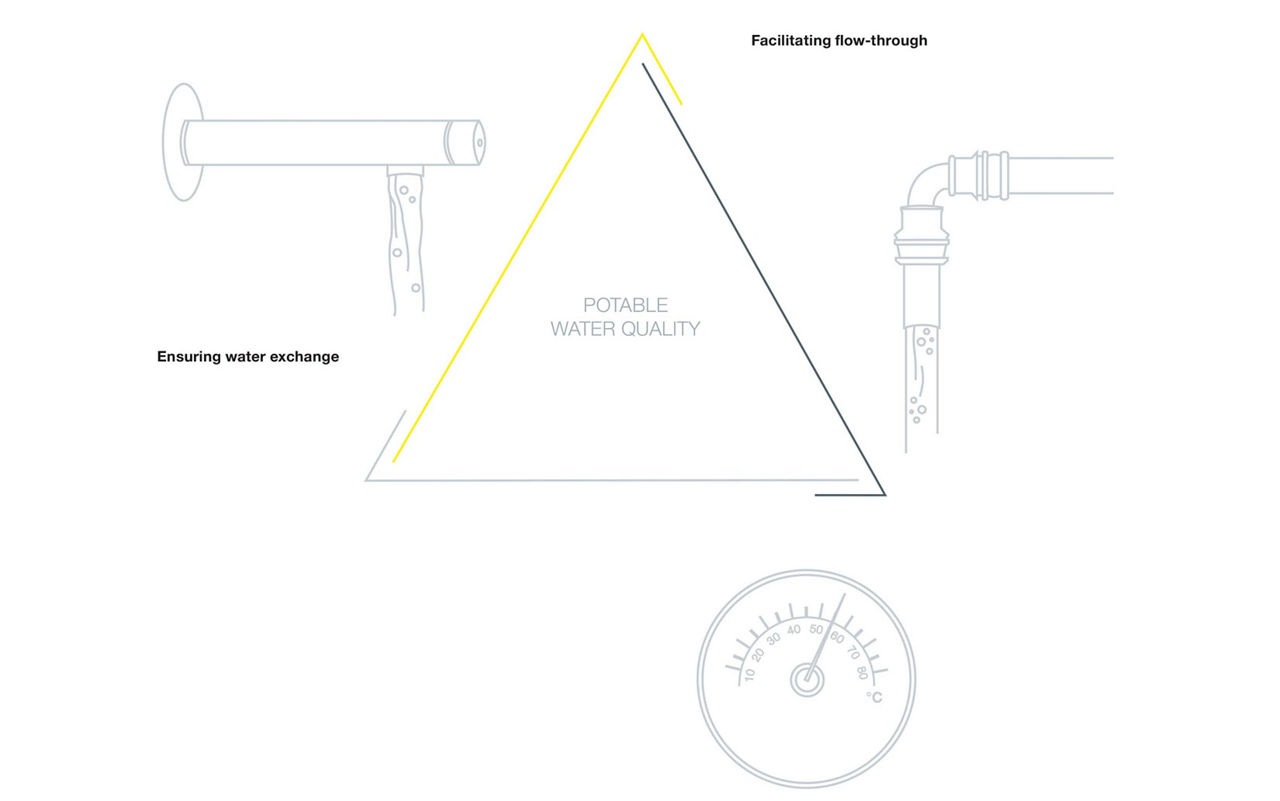 How dangerous are legionella bacteria?
In Germany alone, up to 30,000 people contract legionellosis (legionnaires' disease)– a collective term for the lung diseases triggered by legionella bacteria – each year. This is an alarming figure, especially in the context of the demographic changes taking place in our society, as the risk of contracting legionellosis increases with age. To minimise the risk, water temperatures in building systems should always be maintained at below 25°C (77°F) or above 55°C (131°F). But heating up hot water supplies consumes a great deal of energy.
Energy-efficient drinking water supplies
Up to now, maintaining a high standard of drinking water hygiene has always been a very energy-intensive task. In the future, drinking water heating systems will be an important system that we can leverage to save energy in buildings. Our global teams work on solutions to make drinking water supplies more energy-efficient, helping us to move closer to achieving the government's climate and energy targets. Our innovative ultrafiltration technology is one of these solutions. It enables the hot water temperature to be reduced without increasing the hygienic risk, supporting the long-term use of regenerative energy sources such as heat pumps.
In a four-person household, heating the water supply consumes up to 3200 kw/h of energy per year. This works out as 16 per cent* of the annual energy consumption of the building – and it generates significant CO2 emissions.
Is it possible to guarantee drinking water hygiene while still saving energy?
Our expert Dr Christian Schauer explains
Dr Christian Schauer has headed up our of team of water experts at Viega since the end of 2016. As a Doctor of chemistry with over 16 years of experience in drinking water hygiene, he spends his days working on practical, building-specific hygiene concepts that combine drinking water hygiene with energy efficiency. He acts as our in-house expert and also as a consultant for external parties.
His work consistently looks to the future: how will we safeguard drinking water hygiene in the years to come? What standards do we need to define to ensure that our solutions protect health and our climate?
Contact our drinking water hygiene expert
Dr Christian Schauer on LinkedIn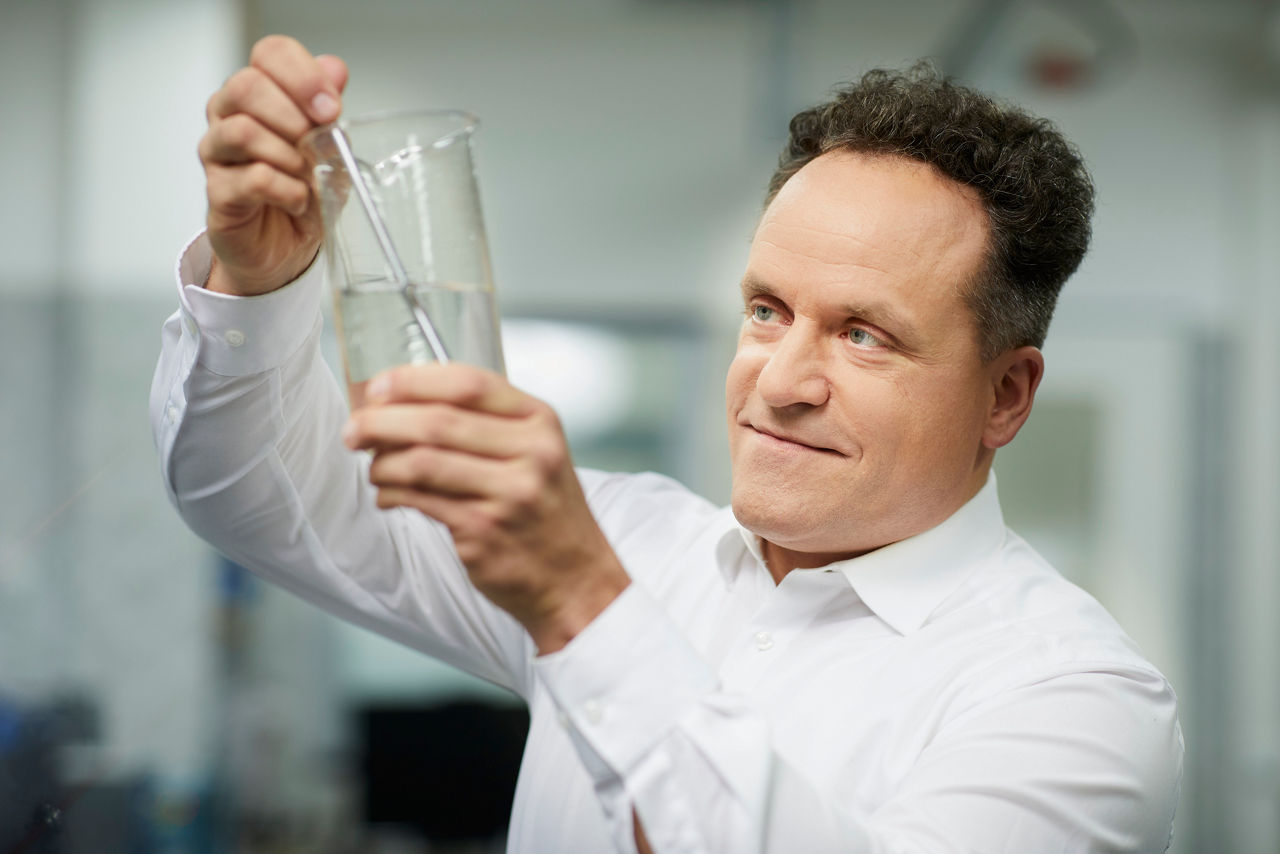 Our whitepaper on maintaining drinking water quality
What do we need to do to maintain drinking water quality in buildings? What challenges do we face? And which solutions will stand the test of time? Our whitepaper explains everything you need to know about drinking water hygiene and quality. Download it for free now.
Read the whitepaper